Dropshipping
WHAT IS DROPSHIPPING?
It is an innovative type of business where the seller (retailer) does not have a stock of the products, but rather it is the distributor (wholesaler) that stores them. In turn, the wholesaler is in charge of packing and arranging the delivery of the packages from the main warehouse to the customer, thus avoiding any unnecessary shipping costs as they do not have to be sent to the retailer first and then sent on to the customer.
WHAT ARE THE ADVANTAGES OF USING DROPSHIPPING?
I can sell my products online and in conventional stores.
I do not have to invest a great deal of money initially.
I do not have to spend a single cent on storage or logistics facilities.
My orders are processed on the same day and they are delivered within 24 hours (Spain).
There aren't any financial risks involved.
I always have my catalogue updated.
Apart from the normal methods of payment, I can also offer the COD system for orders (Spain), which makes things easier for my clients that do not want to pay by credit card, PayPal or bank transfer.
WHO IS IT MEANT FOR?
It is meant for all business people, retailers, intermediaries, webmasters, etc. that need to dispatch and deliver orders to addresses that are different from the usual ones.
Examples:
I have an e-commerce business selling adult toys but I don't have the time, the space or the resources to store the products or dispatch them on the same day as I receive the orders.
I use eBay or the online sales communities and I want to start up my own online sales business.
I am a tupper sex consultant and I organise home-shopping parties away from home, but I would prefer not to have to go back to the hostesses' house to deliver the orders.
HOW DOES IT WORK?
Grutinet has over 9000 products available for me to choose from. I choose what I want and then I publish them in my catalogue, website, etc.
Examples:
1. A client of mine from Barcelona wants to buy various products that I have on my website for 156.00€, so:
I ask them for a prepayment (Visa, PayPal, transfer, etc.).


I make the order on the Grutinet professionals' website, that costs me 78.00€ , which I also pay by credit card.


I give them my client's delivery details and Grutinet takes care of preparing the order and sending it without any additional costs.


I have made 78.00 € (156.00 €- 78.00 €).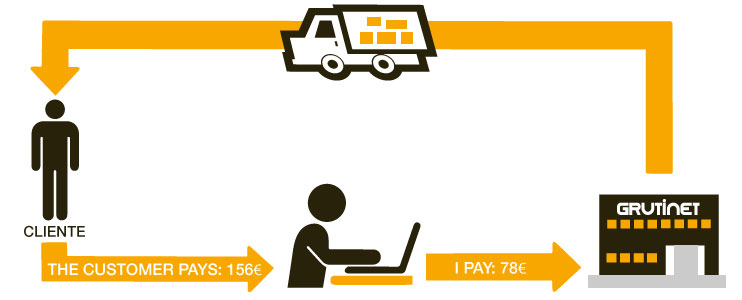 2. Another client, this time from Valladolid, sends me an order for the same amount, 156.00€. However this time I am going to send it COD, which means that my client will pay for it when they receive the goods.
I send the order to Grutinet again.


I give Grutinet the corresponding delivery details and I also tick the box for COD so that they deal with the payment of the package as well.


Once it has been delivered, they deduct the amount I owe them, then they pay the difference into the credit balance of my account with them.


I have made 78.00€ (156.00 - 78.00€).


If I want to get back the amount I have made, I go to the Recover outstanding balance option and I state the specific amount and the bank account number where I want it transferred. For the time being I won't do it.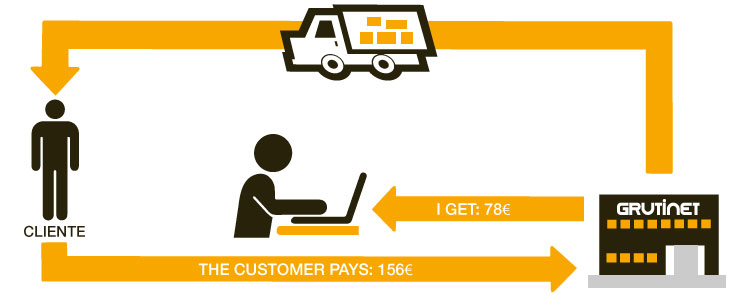 IT'S PERFECT FOR ME!! I SELL AND I DEAL WITH MY CLIENTS AND GRUTINET TAKES CARE OF THE REST.
WHAT EXACTLY IS THE GRUTINET CREDIT BALANCE?
It is a section in my management area of My Account which shows the corresponding cumulative balance for the income earned from repayments, as well as the corresponding commission paid for reaching a certain sales volume, etc.
I can see the balance in euros in My Account constantly and I can use it at my convenience whenever and however I want.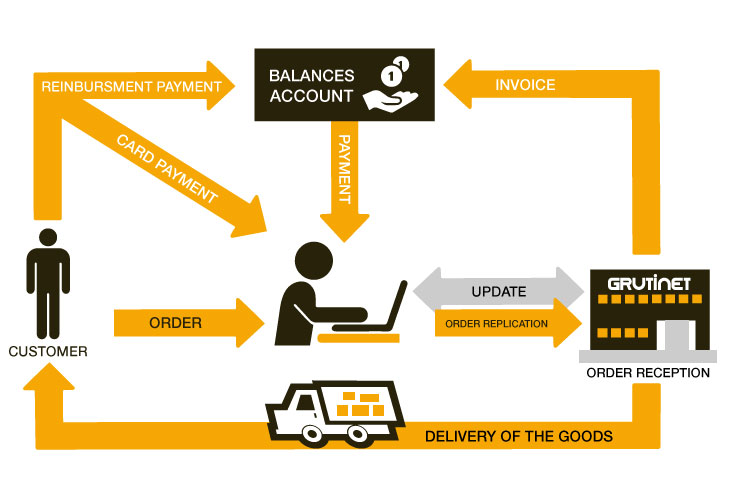 HOW CAN I USE THE CREDIT IN MY ACCOUNT?
I can use whatever I have in my credit balance as if it was money in cash, which means that as I now have 75.00€ in my favour I can:
1. Ask for my money to be transferred into my bank account. As soon as this option is chosen, I will be informed of the corresponding transfer in just a few hours.
2. Carry on shopping using the positive balance in the account. My future purchases can be partially or completely paid with the money that is in My Account. It will be taken from the credit balance and I don't need to pay for the following purchases. Example:
I get another order from a client in Málaga for a total of 134.00€ and the client pays in advance (credit card, PayPal, transfer, etc.). As it costs me only 60.90€ and I already have 78.00€ in my account, I decide to pay Grutinet using what is already in my account and I am still left with 17.10€ for the next time.



My next sale is also paid in advance and it is for a client in Cáceres; this time it is for 56.30€ and it only costs me 22.52€. As I still have 17.10€ in my account, I only have to pay Grutinet the remaining amount, that is, 5.42€ (22.52 - 17.10).



Now the balance in my account is at 0.00€.



The next order is very good, it is for a client in Bilbao that buys 534.25€ worth of goods and I also have to send it COD, which means that when the package is delivered, they are going to pay in 326.86€ which I earn. So I decide to have a transfer of 300.00€ into my account at the bank and I am left with 26.86€ to carry on working with. I will make use of this in the next sale!



Grutinet will only take out cash from my account for the bills when I tell it to, that is, those that I have decided to pay using my money which has accumulated in the account. It will never take out anything, not even one cent for the orders that are dispatched COD, which have still not been delivered or for any bill, unless I tell them to.
| | | | | | | |
| --- | --- | --- | --- | --- | --- | --- |
| CLIENT | SELLING PRICE | COST PRICE | PROFITS | METHOD OF PAYMENT | MY ACCOUNT BALANCE | REPAYMENT |
| Valladolid | 156.00€ | 78.00e | 78.00€ | COD | 78.00€ | 0.00€ |
| Málaga | 134.00€ | 60.90€ | 73.10€ | Take from the credit | 17.10€ | 0.00€ |
| Cáceres | 56.30€ | 22.52€ | 33.78€ | Bank card | 0.00€ | 0.00€ |
| Bilbao | 534.00€ | 207.39€ | 326.86€ | COD | 326.86€ | 300.00€ |
| | | | | Available | 26.86€ | |
DO I HAVE TO MAKE A MINIMUM ORDER?
Minimum orders are not required when working with the dropshipping system, that is, I can make orders for any amount. All I have to do is tell Grutinet, so that they free me from the obligation of respecting the initial minimum order requirement.
IS THERE ANY WAY THAT I CAN FIND OUT ABOUT THE RECOMMENDED RETAIL PRICE OF THE PRODUCTS?
Grutinet gives me the basic prices that it recommends to get an idea of what a reasonable market price would be and then it is up to me to put the prices higher or lower.
WHAT HAPPENS WITH THE BILL?
Obviously, the bill is never sent with the package, my client will only receive the package containing the merchandise. Basically, Grutinet is really selling to me, which is why the bill is made out in my name. I can download this from My Account in the professionals' website, which is where I make my orders from.
Nevertheless, if I want my client to be sent the corresponding bill (that I issue) or any information about my business in the package, all I have to do is send the file (.jpg, .pdf or .tiff) from the option that I have to upload files when making the order. Grutinet takes care of printing them and putting them inside the package. It's so easy!
AND WHAT HAPPENS WITH MY CLIENT?
Grutinet never has any kind of business relationship with my clients or sends them any type of marketing either, it just sends them the order, whereby the only possible type of inherent communication between them would be about the shipment of the package (for example, the SMS message with the consignment number on it, etc.).
Moreover, pursuant to the legal regulations in force, they will sign a confidentiality agreement if I so request in which they agree to keep all the data about my client completely confidential and never use it under any circumstances whatsoever.
WHAT IS THE PACKAGING LIKE?
The order is wrapped in a completely anonymous package that does not reveal the name of the sender, except on the delivery note of the forwarding agent that needs to know the origin of the consignment for logistic purposes. The contents of the package will never be revealed under any circumstances.
WHO SENDS THE PACKAGE?
When the forwarding agents such as SEUR, MRW, NACEX, CORREOS and GLS are used, the sender of the package will be Logistics operator, which is a name that cannot be associated with Grutinet under any circumstances.
HOW LONG DOES IT TAKE TO DELIVER THE ORDERS?
All the orders that I forward on to Grutinet before 17:00 are dispatched on the same day and they are delivered within a period of just 24 hours (Spain). The service is unbeatable and it is only one of the advantages to be had when using the dropshipping system.
WHAT IS THE SPHERE OF ACTIVITY OF THE DROPSHIPPING SYSTEM?
At the moment, I can use it to send the orders of all my clients from Spain and Portugal, which includes the Canary Islands, Ceuta and Melilla, and Europe.
HOW MUCH IS THE CARRIAGE?
Whether dropshipping is involved or not, it is quite clear that with each order a package has to be sent (regardless of the fact that it is for me or for my client, it is paid in advance or COD) and that there are costs incurred in this consignment.
The cost of each consignment depends on the weight and the volume of the package in question; we have very competitive prices, starting from 2.30 Euros.
Nevertheless, I also have to bear in mind that I am going to charge my client for the transportation costs. Regardless of whether it was me or Grutinet that sent the package, my client has to pay for the costs incurred just the same.
When I analyse what I earn and what my profit margins are, I always have to take into consideration the transportation costs as a fixed cost and I do not include it when I am calculating my profits.
THE IMPORTANCE OF BEING ABLE TO SEND PACKAGES COD
Statistics show that 80% of people who buy products online prefer to pay for their purchases on delivery, compared to the other 20% that use other methods of payment (transfer, PayPal, credit card, etc.).
This can give me an idea of the total sales volume, which I can't afford to ignore because I don't have the right infrastructure to do so. That is why I can trust in more than 10 years experience of Grutinet and sell to clients with all the advantages of not having to reveal any of their bank details or credit card data, not even when they have to pay in advance.
Equally true is that in this case, the customer doesn't have to be so concerned about the collection of the package seeing as they haven't paid for it yet; they are not obliged to pick it up. Nevertheless, statistically speaking, the return rate is only 3.5% , which encourages me to advocate a more daring type of dynamics and give my clients the option of making orders COD.
WHAT HAPPENS IF AN ORDER IS NOT DELIVERED IN THE END BECAUSE MY CLIENT REFUSES TO TAKE IT?
Grutinet might charge for the cost of carriage to and from the destination, depending on the shipment method chosen when making the order.
Given the fact that only 7 packages will probably be returned out of every 200, I think it is worth it!
WHAT TYPE OF DATA DOES GRUTINET NEED TO SEND THE ORDERS TO MY CLIENTS?
As stated on the order forms, all I have to give them is the name, delivery address and telephone number.
With these simple pieces of information, Grutinet takes care of the whole consignment.
HOW CAN I GET PICTURES, TEXT, PRICES, ETC?
If I need to download the pictures of the products, and also the descriptive text, RRP, cost price, stock on hand, etc., Grutinet enables me to directly download the files in various formats so that I can update all the information I need for my virtual shop and catalogue at all times.
The downloadable formats available are: .xml, .txt, Excel and Access. Whenever you request the file, it is generated instantly, which means that the information will always be 100% up-to-date.
WHEN CAN I START TO WORK WITH THIS SYSTEM?
I can already start to make orders and send them to third parties using the dropshipping system whenever I want. Grutinet has been using this innovative working technique for quite some time, and it continues to upgrade the interface to improve the service.
All I need to do is sign up as a client of Grutinet and go into My Account as a professional from http://www.grutinetpro.com.

OUR PARTNERSHIP
If you need help with your project, in this section you can find professionals who need to carry it out.